CPU
8-core CPU
Devours tasks.
Sips battery.
M1 has the fastest CPU Apple has ever made. With that kind of processing speed, MacBook Air can take on new extraordinarily intensive tasks like professional-quality editing and action-packed gaming. But the 8-core CPU on M1 isn't just up to 3.5x faster than the previous generation2 - it balances high-performance cores with efficiency cores that can still crush everyday jobs while using just a tenth of the power.
GPU
7 - or 8-core GPU
Plays hard.
Works wonders.
Up to
5x
faster graphics3
All-day battery life
Up to 18 hours of battery life. That's 6 more hours, free of charge.4
Thermal efficiency
No fan.
No noise.
Just Air.
Machine learning
Up to 9x faster.4 Even for a 16-core Neural Engine, that's a lot to process.
Apps on MacBook Air can use machine learning (ML) to automatically retouch photos like a pro, make smart tools such as magic wands and audio filters more accurate at auto-detection, and so much more. That's not just brain power - that's the power of a full stack of ML technologies.
macOS Big Sur
The power of
macOS Big Sur
on Ml.
Developed to unlock the potential of the M1 chip, macOS Big Sur transforms Mac with major performance benefits and so much more. Powerful updates for apps. A beautiful new design. Industry-leading privacy features and best-in-class security. It's Apple's most powerful software ever - running on Apple's most advanced hardware yet.
Speed and responsiveness
The M1 chip and macOS Big Sur work together to make the entire system snappier. MacBook Air wakes instantly from sleep. Everyday tasks from flipping through photos to browsing Safari are faster. And your hardest-working apps all have access to the power they need.
More
power.
Wakes
instantly.
Biggest collectoin of apps ever
Run powerful apps built for Ml. All your existing apps work thanks to Rosetta 2. And for the first time, you can use your favourite iPhone and iPad apps directly on macOS Big Sur. Altogether you'll have access to the biggest collection of apps ever for Mac.
Unified memory

The do-it-all notebook gets do-the-unbelievable memory.
The M1 chip brings up to 16GB of super-fast unified memory. This single pool of high-bandwidth, low-latency memory allows apps to share data between the CPU, GPU and Neural Engine efficiently - so everything you do is fast and fluid.
SSD storage
Up to
2TB
SSD storage6
Up to
2X
faster SSD7
Security
The M1 chip and macOS Big Sur give MacBook Air advanced security and privacy features beyond anything in its class, working to help keep your system and data protected.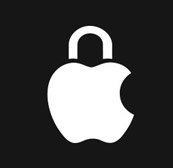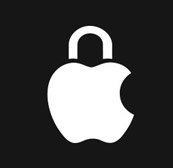 MacBook Air can
keep a secret.
Retina display
Lifelike colours for unreal beauty.
Images take on new levels of detail and realism on the brilliant 13.3-inch. 2560x1600-resolution Retina display.8 Text is sharp and clear. Colours are more vibrant than ever. And the glass goes right to the edge of the enclosure, so nothing takes away from your gorgeous view.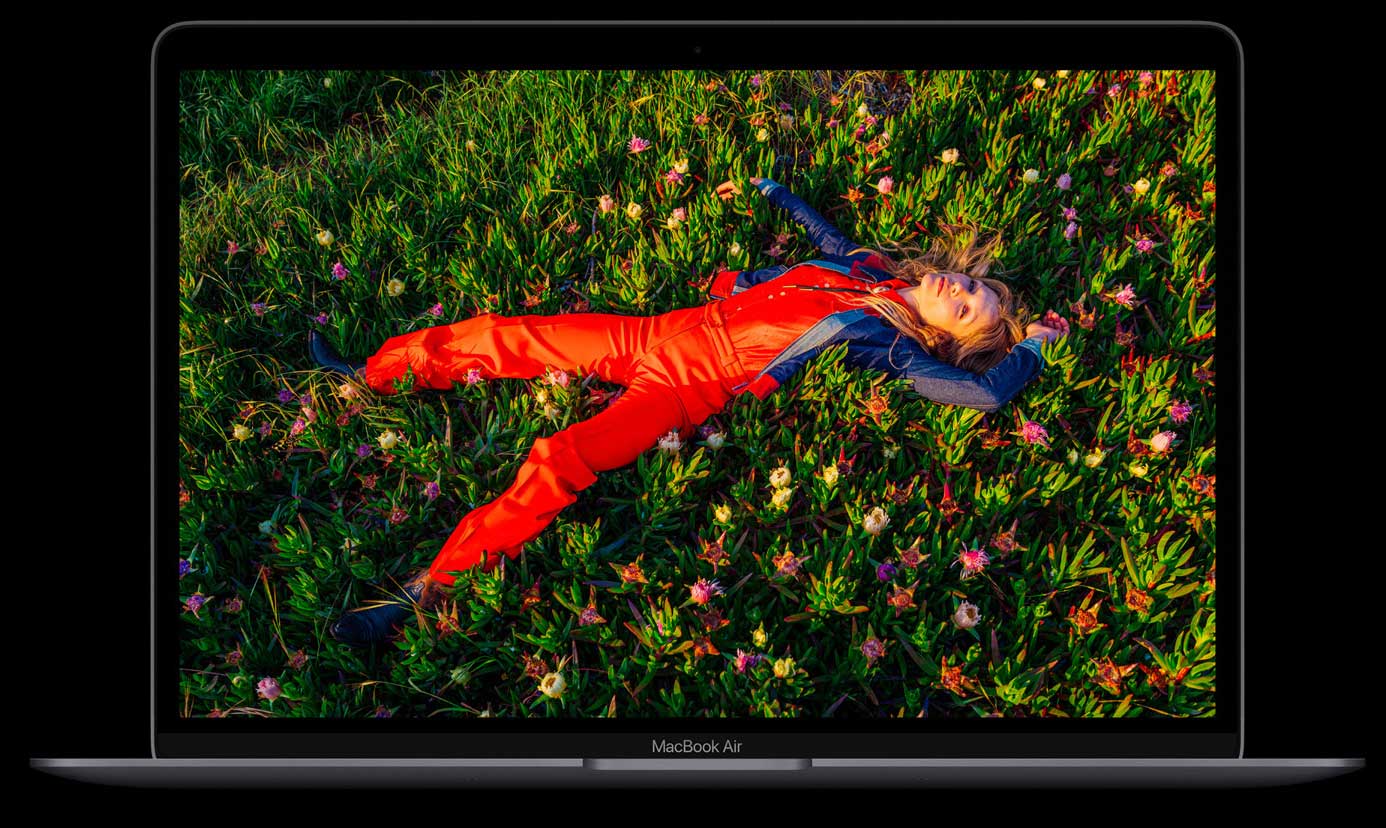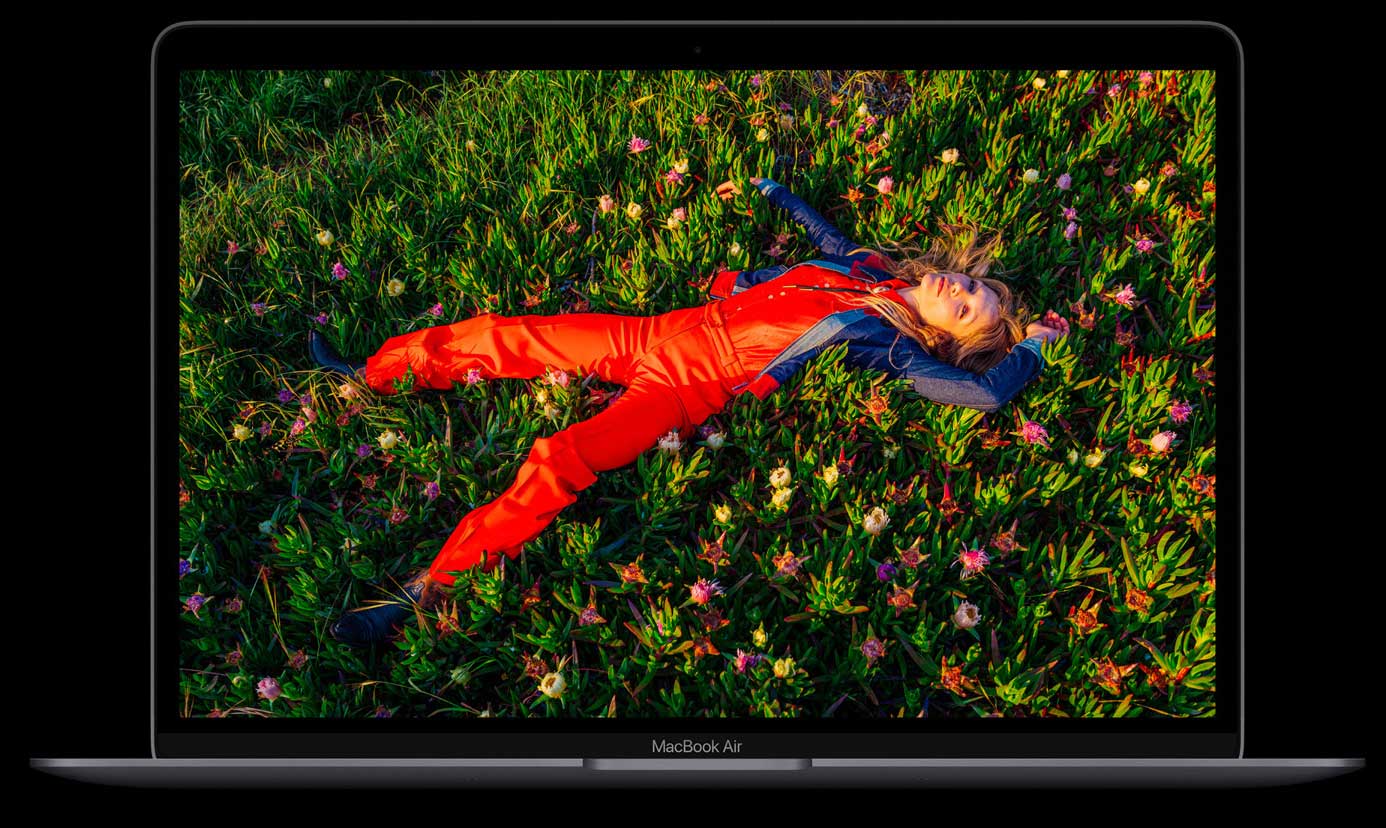 P3 wide colour gamut
A wider palette of
colours on display.
25%
more colour than sRGB
Pixel density
Razor-
sharp text
clarity.
True Tone technology
Good looking. And easy on the eyes. MacBook Air automatically adjusts the white point of your display to the colour temperature of your environment for a more natural viewing experience.

Camera and mics
You're live on the Air.
The image signal processor in the M1 chip helps you look your best for every FaceTime call and video conference. Three built-in microphones make sure what you say gets heard whether you're on a call, dictating a note or asking Siri about the weather.


FaceTime HD camera
Get clearer, sharper images. See more detail in shadows and highlights. And face detection uses the Neural Engine to adjust white balance and exposure for even more natural-looking skin tones.
Three-microphone array
Say "Hello" to mics that focus on your voice instead of what's going on around you.
Magic Keyboard
Go ahead. Take the keys.
When a keyboard types like a dream and still does a whole lot more: that's magic. With new pre-programmed shortcuts, useful features are even easier to access. Get help from Siri, switch keyboard languages. respond with the perfect emoji, find documents with Spotlight - there's so much you can do with just a tap. And the backlit keys with ambient light sensor help you type in low-light settings.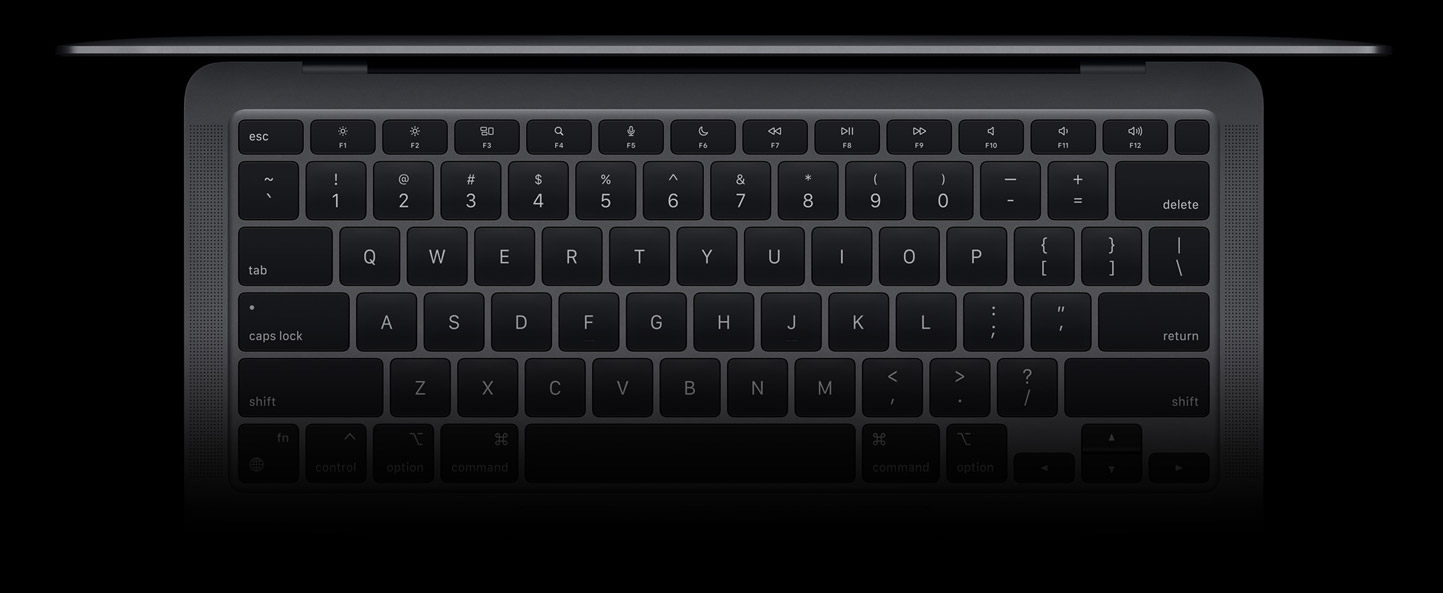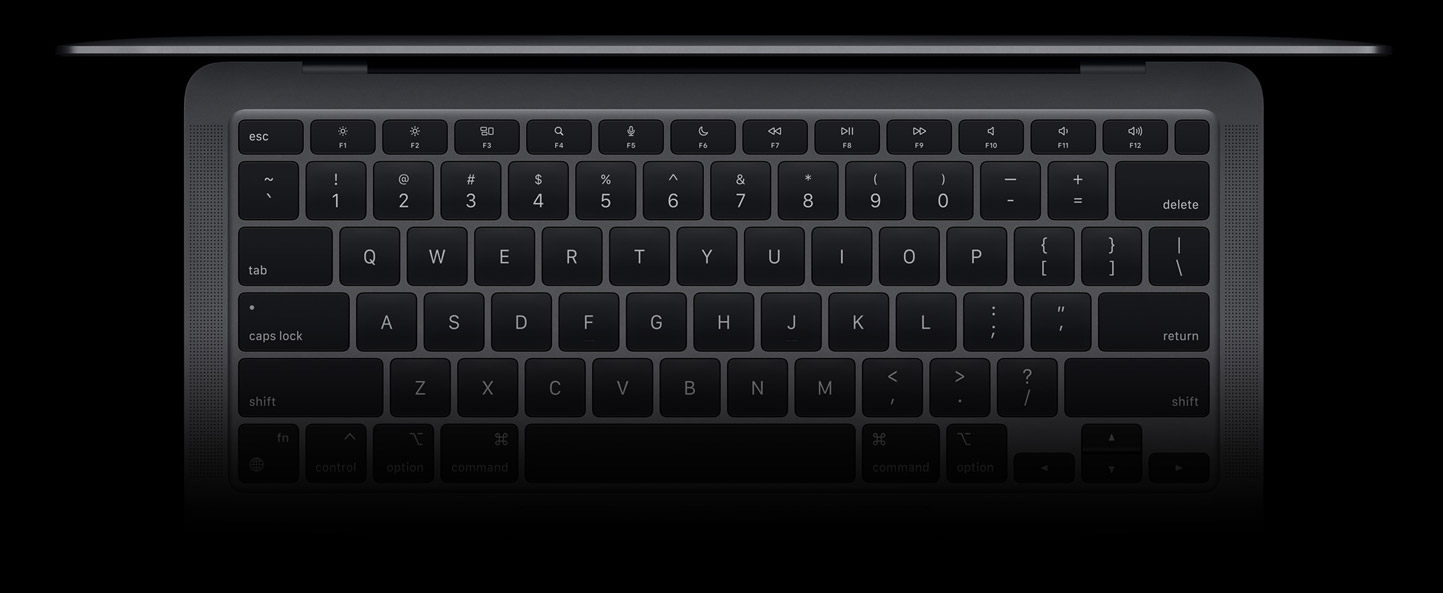 Scissor mechanism
The refined scissor mechanism delivers the best typing experience ever on a Mac notebook.
Force Touch trackpad
Precise
control with
plenty of
room to
swipe, pinch
or zoom.
Touch ID
One touch is all it takes to lock or unlock MacBook Air. Use your fingerprint to rent a movie, buy an app, or access things like secure documents or system settings without having to re-enter your password.


Unlock your Mac


Make purchases
on the App store


open Password-
protected documents


Make purchases
on the Apple TV app
Connectivity
Charges, chats, streams,
works and plays well
with others.